BoBo-i is a newly designed device with small foot print, robust design and versatile options beyond your imagination. It becomes the best choice for commercial, industrial control, IoT and special applications.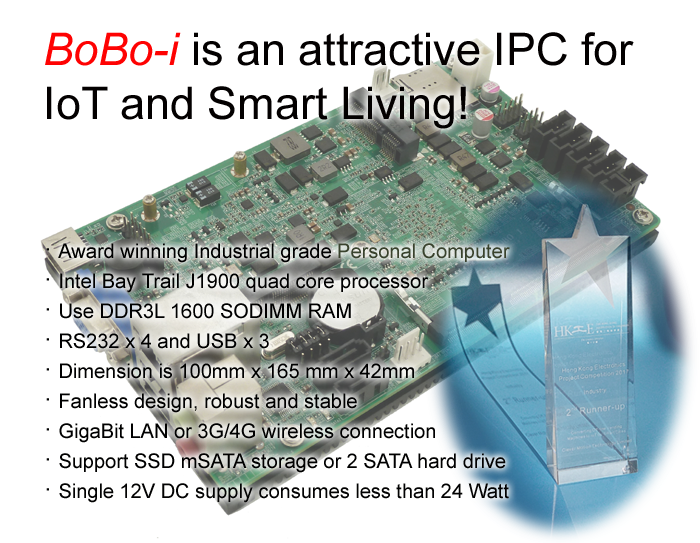 Suitable for:
Industrial used PC, micro server, digital signage player, industrial control, Internet of Things (IoT), remote and unattended appliances.
Product Specification
CPU:Intel Bay Trail 64 Bit J1900 quad core at 1.58 ~2.16GHZ
RAM:DDR3L 1600 SO DIMM (8GB Max.)
Graphic:Intel HD Graphic, OpenGL Graphic
Storage:2 x SATA One of the slot can be set to mSATA
Connectivity:GigaBit LAN, wireless connection through PCIe slot for 3G or WiFi module
Audio:Mic in and Line Out plus 2 channel amplified speaker output
Special functions:auto boot at power on, GPIO
I/O Port:1 x HDMI, 1 x VGA, 3 x USB (2.0), 4 x RS232
Operating system:prefer Linux (boot up time around 25 seconds)
PCB Dimension:100 mm (W) x 165 mm (L) x 42mm (H) (3.93 x 6.50 x 1.65 inches)
Power consumption:12V DC 1A Maximum
Add on accessories:110V - 220V AC to 12V 5A DC adapter, 3G module, 4G module, NB-IoT module, WiFi module, 8GB DDR3L, 32GB SSD module
Note: Specification may be changed without prior notice.