| | |
| --- | --- |
| | |
Anifom and Aniflo are our registered trade marks. These signify our software is applicable to any form and any workflow.
The reality of daily work
| | |
| --- | --- |
| | Massive document and information scatter around offices and systems without relational linkage. |
| | Files are in different versions and may be outdated. |
| | Information on paper is difficult to access, manage and integrate. |
| | Staff do not follow procedures causing error and delay. |
| | Use telephone or email to check status and follow up outstanding tasks. |
| | High turnover of staff and losing valuable experience |
| | Time consuming to train up inexperience new comers. |
|   |   |
Can Document Management System (DMS) resolve all the above?
 

DMS can help a bit but not all.

Version control of document remains a big headache.

DMS stores the entire document in image format. It is difficult to extract data for analysis or reporting.

DMS has pre-defined tags for searching but not flexible.

DMS can organize document but you may need more.

You can achieve much more with the following new approach to improve your operations dramatically.

 
 
The New Approach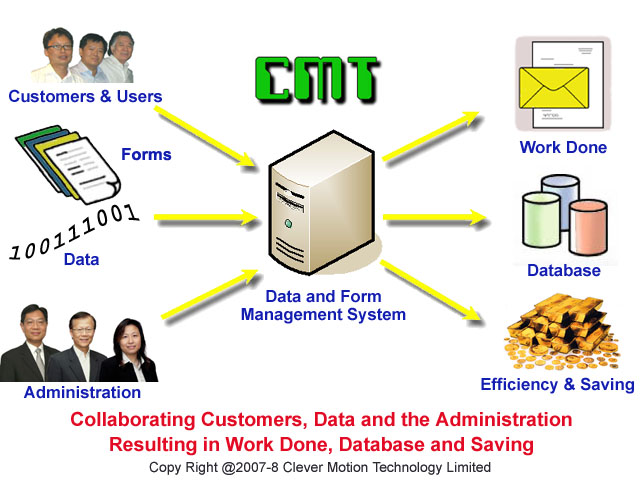 Unique Features of Business Process & Data Management with Anifom & Aniflo:
Using your existing forms with the same look & feel on paper and on screen for easy adoption.
Web-based application for ubiquitous access.
All related files of the workflow are contained in a folder for easy review and process.
Allow attachment and comments to be added to the form.
Anifom extracts data from existing database. Minimize key-in effort and error.
Equips with on-line arithmetic calculation.
Collapsible and/or cascade log to review task progress and staff performance. .
‧
Benefits:
Embed the valuable experience and complex procedures into the daily business operations.
Using Anifom to collect and manage data from paper and legacy systems.
Obtaining accurate and timely data during the workflow process for analysis and reporting.
No more calling and chasing for status of work. Improves mutual trust and relationship.
Email and SMS alert can be set at critical processes for immediate attention.
Users and management can monitor the status of each task. Live data can be obtained for prudent decisions.
Example of applications:
Purchase requisition and fulfillment
Insurance underwriting processes
Staff recruitment process
ISO9000 and regulatory compliance
With Business Process & Data Management System, you can:
| | |
| --- | --- |
| | Data collection |
|   | Make use of simple mechanism to collect and consolidate data from various sources and legacy systems. |
| | Workflow |
|   | Streamlines work processes and assign to appropriate groups automatically. |
| | Task alert |
|   | At critical tasks, alert can be sent. |
| | Monitor and Manage |
|   | Easily review the status of each task |
| | Live data |
|   | Analyze data collected along the business processes. |
| | Decide with confident |
|   | Prudent decision can be made based on live data. |
The days of creating and distributing paper forms - and then retyping the data into a database - are over! Anifom and Aniflo are here to revolutionize your form design, data capture and workflow with ease!